I first launched ReneeHalfway.com in November of 2020, and let me tell you, I made quite a few blogging mistakes. Naive me thought I would just quickly build my site (easy-peasy), write some fun posts and BOOM: Blog done.
Well, that's not what happened.
In reality, it took up most of my free time, a few breakdowns and some serious willpower. To save you from all of that, I'm being completely transparent and writing this post. If you're thinking about starting a blog to make money, make sure to read this article first!
My Biggest Blogging Mistakes.
*Disclosure: This post contains some affiliate links for which I receive a commission if you make a purchase through this link. Purchasing via an affiliate link comes to no extra cost to you, and I naturally only recommend products and services I trust. All opinions are my own. For more details see my disclosure policy HERE and privacy policy HERE.
Before you start out blogging (which you definitely should, because it's amazing!), take some notes and learn from the blogging mistake I made, so you don't have to! Learning from someone else's mistakes is NOT cheating, it's being smart!
Learning from someone else's mistakes is not cheating. It's being smart.
1. Not knowing the difference between WordPress.com and WordPress.org
The first (and biggest)of the blogging mistakes I made was that I had absolutely NO idea that WordPress.com and WordPress.org were two separate things. Seriously, not a clue.
Apparently, knowing the differnence is CRUCIAL to becoming a successful blogger. I had decided to invest the $100 to purchase my domain (which is definitely something you have to do, there's no way around that). There was one problem, however: I had created a site on WordPress.com.
Long story short: I made a mistake and lost that money.
What you SHOULD be doing, is invest in a self-hosted, WordPress.org site! When you do this, you're only using WordPress' software. It gives you WAY more possibilities, such as the use of plugins and being able to use third-party themes*, and much more control over your own site. I mean, that's how it should be, right?
Getting your site hosted.
My site is currently hosted with Siteground and I'm so happy with their service. They offer 3 very affordable yearly plans that tailor to all types of bloggers, from beginner to seasoned site owner! The cheapest one starts at $6.99/mo, which makes it one of the cheapest hosting plans out there!
I've had a small problem with my site, but their costumer service was available right away and helped resolve the issue. (This is SO important, especially when it's an urgent problem!). Siteground's costumer service offers a live chat as well, which is great!
If you also want your site to be securely hosted, check out SiteGround! It'll make it possible for you to start earning money with your blog too!
Another option I know works really well for other bloggers is Bluehost. I can't give you my personal experience with it, though, because I've never used them myself. The biggest benefit of getting your site hosted with Bluehost, is the price. You can choose their 3-year plan and save a lot of money. (Their 1-year price is about the same as SiteGround). I just personally prefer to only have a 1-year contract in case I ever want to switch, but it's still a great option!
* WordPress.com does let you use third-party themes with a business plan, but that is a much more expensive way of doing it, without any real benefit (in my opinion).
2. Not investing in a theme right away.
I already mentioned the term "third-party theme". I'll quickly explain what that means for those of you who haven't heard of it yet.
The "theme" is basically a website's design. The theme decides which widgets you can use, and overall, what the site looks like. WordPress.com does have some free and premium themes you can use, but they are all very limited. As I already told you, I did purchase a WordPress.com subscription and had access to the premium themes, but even those didn't come close to the possibilities a third-party theme offers.
The reason for that, is that you need plugins to create a fully-functioning, beautiful website. Plugins are "apps" for your website and they are very important!
After I finally got my domain and a self-hosted website, it was time to start building! I was absolutely terrified, because I don't know the first thing about web design or coding. Luckily, purchasing a beautiful theme makes all of that much easier! After you've purchased your theme, you receive a file you can download. The theme I bought came with very clear installation instruction that even I understood (and that's saying something).
After you've installed the files, you basically have a template of a website full of demo content. All there's left for you to do, is replace the demo content with your own, and decide on fonts, colours, etc! (My theme also came with instructions for this, so I really think this is something literally anyone can do!).
The theme I'm currently using is from 17th Avenue and is called the "Mia" theme. They sell affordable, feminine themes that are very user-friendly. My theme costs $69, which is incredible compared to the price of a professional web designer! They also have a few themes that are even cheaper, for those who only want to display their blog posts! I can't recommend their store enough. Everything was super clear and easy to understand. On their website, they have tutorials and guides for literally every little aspect of building your site, so you'll never feel like you're on your own during the entire process. If the thought of building a website still intimates you despite all of the support they offer, you can also have them install the entire site for you! Check out their beautiful themes down here: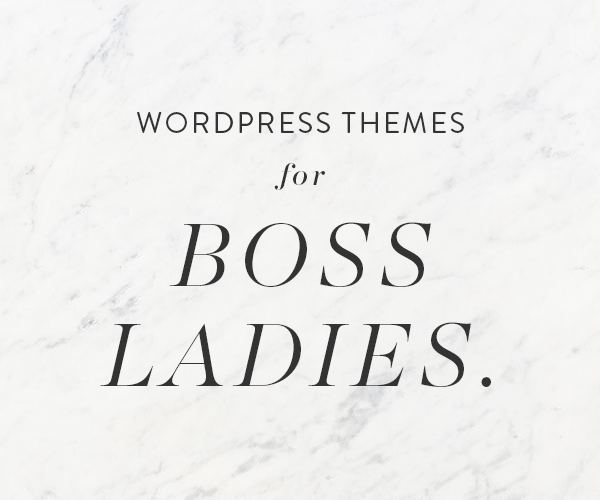 3. Posting about myself.
Number 3 of my blogging mistakes, after setting up my site, was to post pieces about myself. I'm going to have to give you some tough love right here: People don't care about you.
That was harsh, I know. But I assure you that this was the best advice I've ever received, so now I'm passing it on to you.
What I mean by that, is that strangers on the internet don't really care about your day-to-day life. If they have 30 spare minutes a day to read a few articles, they aren't going to want to read about what you did last week. Sorry.
Quick disclaimer here: This post is for those that want to become successful, professional bloggers. If you just want to start a blog for fun and share your experiences with a few people, then that's absolutely fine! Of course you can post about yourself if that's what you want!
4. Not having a niche.
Another one of my blogging mistakes builds onto the previous one. I knew I wasn't supposed to be talking about myself, so what should I be posting?
If you want to have a successful site that people want to visit time and time again, you'll have to "niche down".
What that means, is that you'll have to decide on the overarching topic of your site. Some popular niches are mom blogging, health & fitness, DIY or crafts and food blogging. If you don't know how to decide on your niche, it might help to think about this: What is something you're both passionate and knowledgeable about? That should be your niche!
It won't help you to create a site that isn't niche-specific. It'll confuse your readers if you have a travel blog, but also share recipes and workout ideas. A friend of mine told me: "If you market to everyone, you market to no one." And she's right. If your blog is a pile of random topics, no one will really feel like your site is the right place for them.
Related: How to Find Your Niche: Deciding on a Blog Topic.
Once you've decided on your niche (your overarching topic), you should come up with 3 to 4 sub-topics you want to discuss on your blog. For me, those are productivity, mindset, business and personal finance. They all complement my overarching vision, that I call "Young Success". In other words, these 4 sub-topics or categories, help give all the information young women need to become successful!
5. Not having any legal protection.
Another thing that just didn't occur to me: Legal protection.
If you have a monetised blog (aka, making money off of your blog in any way), you NEED legal protection. Even if you only make money from affiliate sales.
When I found out I needed to legally protect my blog I literally freaked out. Do you know how expensive lawyers are?! Luckily, I found a way around having to spend crazy $$$ on protecting my site and saved A LOT of money.
Related: 12 Websites With Free Stock Images for Your Blog.
I found A Self Guru's legal templates after doing some research. Amira, CEO of A Self Guru is a lawyer that sells legal templates for online businesses! After purchasing her templates, all you have to do is follow the easy-to-follow instruction and place them on your site! Literally all you have to do is fill out your name or name of your business every once in a while on the indicated blank spaces in the template, so when I say it's easy, I MEAN easy.
I've go the Legal Bundle that includes everything you need to get started and avoid getting sued! You've got a privacy policy, terms & conditions and a disclaimer. Check out the Legal Bundle here.
6. Not optimising my blog for SEO.
SEO stands for "Search Engine Optimisation", and it's a bit technical. When I first started out, I already felt overwhelmed and told myself: "You know what? You don't need SEO. Just write some posts and it'll be fine.".
It was not fine. Not understanding SEO was probably my second biggest blogging mistake. With a blog that's optimised for SEO, Google will be able to understand your site and categorise it accordingly. If you ever want your posts to appear on the first page of Google – and not on the forgotten wasteland that is page 15 – this is VERY important.
There's a lot to SEO that I can't all discuss in this post, that why In the future, I'll write a full post about understanding SEO. Subscribe to my newsletter so you won't miss it!
7. Forgetting about opt-ins.
The last of my blogging mistakes, was not using opt-ins or freebies on my site! An opt-in or freebie is a free goodie your readers will receive once they sign up for your email list. They're super fun!
Your email list is your most valuable asset as a blogger. Even if your website suddenly stops to exist, you'll still have your readers documented on your email list.
BUT, people usually don't sign up without a good reason. That's why all the successful bloggers create opt-ins to get people to sign up! Some common ones are packing lists on travel blogs, a meal prepping sheet on health blogs or organisation calendars on productivity blogs.
I've created these opt-ins, in case you'd like to check them out:
They require a little more work, but it really is the best way to grow your email list!
That's it! You now know which blogging mistakes to avoid!
When first starting out, having a blog can be incredibly overwhelming. Luckily, there's always someone that's gone before you that can help you out! (Just keep in mind: "If Renee can do it, I can do it too!", because I basically knew nothing a few months ago, and look at where we are now!)
Make sure to follow me on IG @ReneeHalfway for more advice on blogging and business!
Which of these blogging mistakes have you made before? For me, it was definitely #5!