While doing the keyword research for this post, I already saw the amount of people searching for "How to start a blog for free". Spoiler: You can't.
Not if you want a blog that makes money, at least. Many bloggers post monthly "income reports", where they show exactly how much money they make blogging. And that's great! I'm all for transparency.
However, there's one thing not many of us talk about: How much it actually costs to start a blog.
Read This Before you Start a Blog.
*Disclosure: This post contains some affiliate links for which I receive a commission if you make a purchase through this link. Purchasing via an affiliate link comes to no extra cost to you, and I naturally only recommend products and services I trust. All opinions are my own. For more details see my disclosure policy HERE and privacy policy HERE.
I would just like to take all of the misleading information off the internet. Starting a blog for free is NOT POSSIBLE. And I'll explain why in this post. I just want to make clear that I didn't write this post to stop you from starting a blog. Blogging is AWESOME and I think everyone should go for it, if it's something you want to pursue!
The point of this post, is to inform you on the actual costs of starting a blog the right way. You'll simply have to make some initial investments, much like with any other business! However, it is important that you feel prepared on your journey as a new blogger! So, here we go.
Hosting: $84 (a year).
The absolute BASIC thing you'll have to invest in, is a hosting plan. There really is no way around this.
You're going to need a self-hosted website. What this means, is that you purchase a domain (your website's name) and pay to keep your site "live". You've probably heard that you can start a blog for free on WordPress.com, but that's not what you want to do! Check this post to learn the difference between WordPress.com and WordPress.org (and why it's very important to know!) Common Blogging Mistakes to Fix Right Now
So, back to getting your site hosted. There are many different options out there, but I highly recommend using Siteground's service! Siteground is where I host ReneeHalfway.com, and I've never had any issues with them! Their consumer service is also very responsive, which is a huge plus for me!
Siteground's starter plan costs $6.99/month. You can upgrade whenever you need to, but the beginner's plan will last you quite a while before your site starts to grow! You will also get your domain for FREE!
Check Siteground's hosting plans here:
.
Another popular option is Bluehost, which is used by many bloggers! Their yearly plan costs about the same as Siteground, but they distinguish themselves by offering a 3-year plan as well, which ends up costing only $2.95/month! I can't give you my own experience with them though, because my site isn't hosted with them.
A Theme: $69
Okay, after getting your site hosted, it's time to start building a blog. Having a blog that's visually appealing is SO important! The reason for that is simple: As a blogger, you present yourself as an expert in a certain area (think travel, finance, fitness, etc.). Your blog needs to reflect that as well! A professional-looking blog will automatically give your readers the impression that you know what you're talking about. And that's what you want!
The problem for most bloggers is that they're not necessarily web designers. But hiring a professional can end up costing you a couple thousand dollars… No thank you! A great solution to this problem, is purchasing a WordPress theme! A website's theme is basically the design. It decides which widgets you can use and how your content is being displayed.
My website runs on the "Mia" theme that I bought from 17th Avenue Designs for $69. (A one-time purchase). They are an amazing company that sells beautiful, feminine themes designed for bloggers and online stores. (They have themes that are even cheaper that just lets you display your posts.)
How does it work?
After purchasing a theme from 17 Avenue, you receive a downloadable file. On their website you will find easy-to-follow tutorials and guides on literally EVERY single aspect of building up your site. You'll never feel like you're on your own while working on your site! You simply install the files on your WordPress site (this is fully explained in the tutorials, so don't worry!) and start customising your site! You can decide on images, fonts, colours – you name it!
Check out 17th Avenue Designs: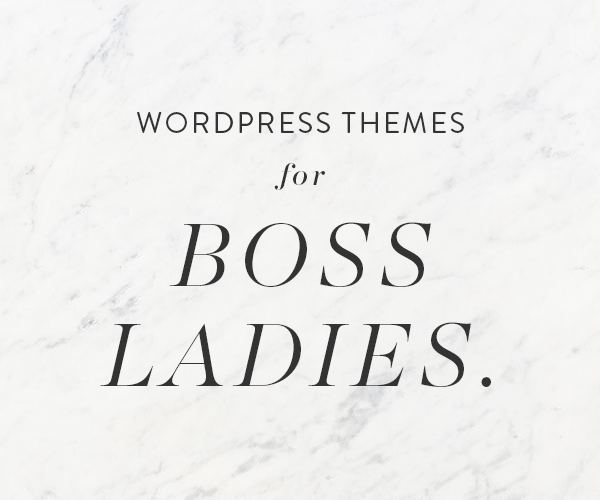 Legal Protection: $197
When I first realised I needed to legally protect my blog, I FREAKED OUT. Do you know how much a lawyer costs?!
Luckily, I stumbled across A Self Guru's Legal Bundle! Amira, CEO of A Self Guru is a lawyer that created these comprehensive legal templates to help online business protect themselves against expensive lawsuits!
If you have a blog that is monotized (aka, making money off of it in any way, like brand deals, affiliates links or sales), you will NEED legal protection. It's not optional, if you don't want to risk getting sued.
The great thing about Amira's Legal Templates, is that they can be used internationally and used by anyone! The starter bundle consists of a disclaimer, terms & conditions and privacy policy. (The bare minimum for you site). All you have to do after receiving the templates, is fill out your own information in the highlighted blank spaces and place the documents on your blog. Easy!
Oh, another important legal thing to know is which images you're allowed to use. See 12 Websites With Free Stock Images for Your Blog.
*Blogging Courses: $200
*Blogging courses are of course an optional choice, but I personally think the information you receive in these courses WILL help you get ahead so much faster in your blogging career! If you have to figure out all of these things through trial-and-error, it'll probably take you quite a while. (In other words, you'll basically end up LOSING money, as you could've already started earning months sooner.)
I'll post a full article on my personal recommendations for blogging courses for beginners very soon! Subscribe to my newsletter so you don't miss it!
In the meantime, I can recommend you to find courses for the following topics:
Pinterest Marketing: Pinterest is a great way to drive traffic to your blog. Knowing how to use it properly is KEY.
SEO: Search Engine Optimisation is a long-term game for driving traffic to your blog. To goal of this is to rank high in Google's search engine, but it'll take a while for this to take off. However, you don't want to have to go back and rewrite all of your blog posts after a year, once it starts becoming relevant. That's why as a beginner, you need to be on top of your SEO game! (There's also much more to it than it seems at first glance.)
Affiliate Marketing: This is the best way to make money once you start a blog. The reason for this, is that you don't need a ton of traffic to make sales. So, investing in an Affiliate Marketing course is a great idea!
$200 is an estimated amount, as all course prices differ. However, this is what I approximately paid when I just started out.
That's how much it costs to start a blog!
So in conclusion, it costs about $550 to start a blog that can make you money! I completely understand that it might seem like a lot, but think about it this way: How much does it cost to start any other business? In most cases, probably a lot more!
Started a business for free is just not very realistic (sadly). I'm just here to make sure you feel prepared on this new thing you're taking on! If you have any questions, please don't hesitate to ask them in the comments below, I'll get back to you ASAP!
For more blogging insights and tips, check out my Instagram @ReneeHalfway. I'd love to connect with you over there!